Income Taxation of Trusts - Getting Back to Basics
Date:
Wednesday, November 1, 2017
Location:
Kenwood Country Club, 5601 River Rd, Bethesda, MD 20816
Speaker:
Megan E. Wernke, Esq., Caplin & Drysdale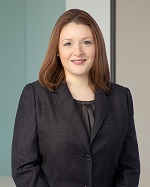 About the Program:
Learn how to identify opportunities and flexibility in trust design and avoid common pitfalls. This presentation will include basic trust terminology as well as sophisticated planning ideas, all of which will help you better assist your clients in establishing and maintaining trusts, and understanding tax ramifications, including the mechanics of 1041s and K1s.

Guest Speaker:
Megan E. Wernke is an attorney in Caplin & Drysdale's Washington, D.C. Office. She advises wealthy individuals and the fiduciaries of large estate and trusts (both domestic and foreign) on a wide range of sophisticated tax and estate planning matters. She specializes in achieving tax efficiency and compliance while also ensuring that clients' non-tax objectives are met. Ms. Wernke's practice includes designing and implementing estate and lifetime gifting plans, succession planning for clients with businesses large and small, achieving creditor protection for clients and their heirs, and helping clients come into compliance with U.S. tax requirements. ​
Details:
Breakfast is served at 8:00 a.m. and the program begins at 8:30 a.m.

Member registration fee is $40.

Guests welcome when accompanying a member host. A guest fee of $50 applies

Free parking.
Thank you to our Signature Sponsor