Charitable Optimization, Secondary Planning for CRTs, and Private Foundation Management Issues
Date:
Thursday, November 3, 2016
Location:
Hilton Rockville Hotel | 1750 Rockville Pike, Rockville, MD 20852
Speaker:
Ellen Fishbein and Evan Unzelman | Sterling Foundation Management, LLC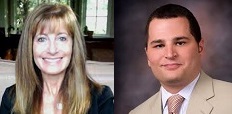 About the Program:
This three-part presentation will discuss an innovative way to maximize your client's charitable deduction; liquidating or exchanging your client's CRT income interest; and avoiding foundation management pitfalls.

About the Speakers:
Evan Unzelman was named president of Sterling Financial Management, LLC, in 2015, after serving in the role of chief operating officer and other positions since he joined the firm in 2006. During his tenure, he launched Sterling's donor advised fund, grew the firm's CRT income interest sale volume year-over-year and helped develop the "CRT Rollover" strategy to provide new options to CRT donors beyond selling their income interest.
Ellen Fishbein is vice president, foundation consulting and management at Sterling. As an accomplished tax attorney and business/legislative advisor, her legal and business skills are particularly well-suited to the needs of Sterling's private foundation, public charity and donor-advised fund clients.
Details:
Breakfast is served at 8:00 a.m. and the program begins at 8:20 a.m.

Member registration fee is $35

Guests welcome when accompanying a member host. A guest fee of $50 applies

Free parking. Closest Metro Station: Twinbrook on the Red Line