Joint Council Meeting | Houston We Have a Problem - How to Work with Clients with Diminished Capacity
Date:
Wednesday, April 25, 2018
Location:
Kenwood Country Club, 5601 River Rd, Bethesda, MD 20816
Speaker:
Philip Fish, CFP®, Alvin Frederick, Esq., Dr. Carole T. Giunta and Laura Stone, Esq.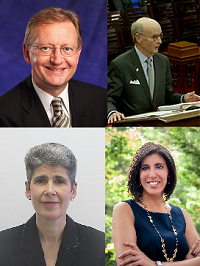 About the Program:
As advisors to aging clients, we will all encounter clients whose capacity we question. Laura L. Stone, Esq. (Birchstone Moore LLC) will moderate a panel discussion with Carole Giunta, Ph.D. (Carole T. Giunta, Ph.D. & Associates, LLC), Philip Fish, CFP® (Sandy Spring Bank) and Alvin Frederick, Esq. (Eccleston and Wolf, P.C.) to discuss the legal, ethical and practical issues advisors must consider to protect their clients and themselves when a client's capacity is at issue.
Guest Speakers:
Philip Fish, CFP® is the Estate Planning Specialist at Sandy Spring Trust, where he assists clients with transition planning, intergenerational wealth transfers, risk management, estate planning and professional asset management. He has been a financial professional for 30 years. Mr. Fish is active in the community and serves on the Planned Giving Committee of the Montgomery College Foundation.
Alvin I. Frederick, Esq. has spent his entire career at Eccleston and Wolf. He started with the firm while in law school and today is the firm's senior partner. Mr. Frederick focuses his practice on the defense of professionals, primarily lawyers, accountants, architects and engineers, both in civil and disciplinary matters. Mr. Frederick is a Fellow of the American College of Trial Lawyers, has been included amongst the Best Lawyers of America since 1997, and is regularly named as a Maryland SuperLawyer, as well as Martindale Hubbell, AV designation. He has served the bar in a variety of ways and currently is a member of the prestigious Rules Committee of the Court of Appeals, serving via Court Order of the Court of Appeals. He has served as Ethics Chair of the Bar Association of Baltimore City and Chair of the Litigation Section of the Maryland State Bar. He has twice been named "Best Lawyer for Legal Malpractice Defense," and is recipient of Litigator of the Year award by the MSBA. He shares the award for education from the Maryland Bar Foundation. In addition, he has argued a number of ground-breaking cases in the field of professional negligence.
Carole T. Giunta, Ph.D. earned her doctorate in clinical psychology from the University of Vermont. She has been in the private practice of clinical and forensic psychology since 1995, with a specialization in the assessment of geriatric patients. Dr. Giunta is on the Adjunct Clinical Faculty at George Washington University. She is licensed to practice psychology in Maryland, D.C., Virginia and West Virginia.
Laura L. Stone, Esq. has 20 years of experience assisting clients with their estate planning, business
succession planning and estate and trust administration needs. In 2014, Ms. Stone and her two
colleagues from Venable LLP founded Birchstone Moore LLC, a boutique law firm focusing on estate
planning and estate administration, with the goal of modernizing the estate planning practice. Ms. Stone is an active member of the Washington estate planning community, serving as the Vice-President of the Montgomery County Estate Planning Council and a member of the Washington, D.C. Estate Planning Council, District of Columbia Bar Association and Maryland Bar Association. She has been named a Top Estate Planning Attorney in the Washingtonian Magazine.
Details:
Registration begins at 5:30 pm and the program begins at 5:45 pm.

Reception and heavy hors d'oeuvres to follow the program.
Member registration fee: $65

Guests welcome when accompanying a member host. A guest fee of $80 applies.

Free parking.
Thank you to our Signature Sponsor


Related Document(s):