Joint Council Meeting
Date:
Tuesday, May 7, 2019
Location:
Key Bridge Marriott Hotel | 1401 Lee Highway, Arlington, VA 22209
Speaker:
Ted Hart, ACFRE, CAP, CAF America, and Eileen Ellsworth, The Community Foundation of Northern Virginia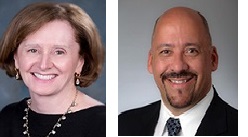 The Joint Council Meeting is hosted this year by the Northern Virginia Estate Planning Council.
It has been approved for one hour of CFP continuing education credit.
About the Program:
This panel discussion will focus on two important aspects of Donor Advised Funds (DAFs): the evolution of community foundations and DAFs, and the flexibility of DAFs. For 100 years, community foundations across America have helped grow local philanthropy and connect donors to the community. They offer DAFs, scholarship funds, and other giving vehicles for charitably minded residents, while also doing the hard work of assembling unrestricted funds to help address local needs. Like many of the social innovations of the early 20th century, community foundations have stood the test of time, gaining influence and evolving to become ever more relevant and responsive to their regions.
Eileen Ellsworth will discuss this evolution, sharing innovative ways DAF donors use the Community Foundation today to more effectively deploy their philanthropy. She will share the growing civic leadership role of community foundations and the impact of the new Tax Law on place-based philanthropy.
Ted Hart will share practical insights on how DAFs enable donors to give illiquid real or personal property contributions domestically and internationally in a safe, easy, and effective manner within the context of the growing concerns around how the new Tax Law will impact domestic and international charitable donations.
Donor advised funds (DAFs) are well-known by now, but there's one aspect of these vehicles that is yet to be fully understood: their flexibility. Many donors remain unaware of DAF's suitability for illiquid asset donations, as well as their suitability for cross-border philanthropy.
The panel will be moderated by Melinda Merk, JD, LLM, CFP® of McCandlish Lillard.
About the Speakers:
Since becoming the President and CEO of the Community Foundation for Northern Virginia in 2005, Eileen Ellsworth has helped reinvent and reimagine the Community Foundation's work and purpose. Today, it is an influential social and civic voice that helps grow local philanthropy and lead and convene the community. Last year, the Community Foundation awarded $7.1 million in grants and scholarships, a record level of impact, and currently reports $66 million in charitable assets.
Eileen currently serves on the Northern Virginia Chamber of Commerce Board, the Northern Virginia Regional Board for GO Virginia, and the Advisory Board for George Mason University's Center for Innovation and Entrepreneurship.
Ted Hart, ACFRE, CAP®, President and Chief Executive Officer, CAF America, has more than 30 years of experience in advising global philanthropy. He is an expert in both domestic and global philanthropic regulations and risk management. During his tenure as President and CEO, CAF America has witnessed exponential growth, significantly expanded its suite of services and dramatically increased the number of charities funded around the world.
Before joining CAF America, Ted served as President of an international consultancy firm, providing strategic solutions to major nonprofits and non-governmental organizations. He has co-authored six books published by John Wiley & Sons, including People to People Fundraising, Internet Management for Nonprofits and Fundraising on the Internet. Ted played a critical role in the creation of the green nonprofits movement and was founder of the International ePhilanthropy Foundation.
In addition to his Master in Public Administration degree, Ted is a Chartered Advisor in Philanthropy, and he holds the Advanced Certified Fundraising Executive designation, which is held globally by less than 120 people, and is certified in Anti-Money Laundering by the Society of Tax and Estate Professionals.
The panel will be moderated by NVEPC Board Member Melinda Merk, an attorney at McCandish Lillard.
Details:
Registration and networking begin at 5:00 pm and the presentation begins at 5:30 pm.

Member registration fee: $65

Guests warmly welcome when accompanied by a member. A guest fee of $80 applies.

Reception and heavy hors d'oeuvres to follow the program.

Complimentary parking is available at the hotel.

Via Metro: Key Bridge Marriott is 0.3 miles from the Rosslyn Station - Blue/Orange/Silver lines