Lessons From Empty Mansions
Date:
Wednesday, September 18, 2019
Location:
Kenwood Country Club | 5601 River Rd, Bethesda, MD 20816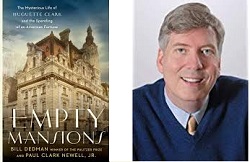 Thank you to our Program Sponsor!


About the Program:
Empty Mansions is a mystery of wealth and loss. Though the reclusive heiress Huguette Clark owned palatial homes in California and Connecticut and New York, she lived for twenty years in a simple hospital room. This Empty Mansions event is a combination of a book talk and as a discussion of planned giving and wealth management. Bill Dedman will recount the mistakes of the Clark family told through the eyes of daughter Hugette, who as a young girl who held a ticket on the Titanic and as an elderly woman was still living in New York City on 9/11. Take a tour of the Gilded Age and the mysteries of a prominent family and learn how to frame planned giving discussions with your clients.
Empty Mansions is available at your local library and many bookstores. Here is a link to purchase on Amazon.
​About the Speaker:
Bill Dedman is a Pulitzer Prize-winning investigative reporter and co-author of the bestselling biography Empty Mansions: The Mysterious Life of Huguette Clark and the Spending of a Great American Fortune. He has worked in online news, video, newspapers, television, and magazines.
Bill got his start in journalism at 16 as a copy boy at The Chattanooga Times. Bill has written for the Associated Press, The Washington Post, The New York Times, and The Boston Globe.
In eight years with NBC News, reporting online for NBCNews.com and msnbc.com, Bill uncovered stories on the Pentagon's slow efforts to identify servicemen and women killed in past wars, the military police officers who tried to stop coercive interrogations of detainees at Guantanamo, fatal problems with firefighter safety equipment, and lessons learned from studies of school shootings.
Bill stumbled onto the mystery of the reclusive heiress Huguette Clark, who was featured in his series of reports in 2010 on NBCNews.com and the Today show. The Clark series was the most popular story ever on NBCNews.com, with more than 110 million page views. What began as a slideshow and feature story developed into an investigative series, a running daily competitive story, a full-length biography, and now is being developed as a Hollywood film.
He co-wrote the biography Empty Mansions: The Mysterious Life of Huguette Clark and the Spending of a Great American Fortune. The book debuted at No. 1 on The New York Times best seller list and was chosen among the best books of 2013 by critic Janet Maslin, Amazon.com, Barnes & Noble, and Goodreads readers.
Details:
Buffet lunch is served at 12:00 noon and the program begins at 12:30 p.m.

Guests are warmly welcome when accompanying a member host.

A guest fee of $50 applies.

Free parking.
The Council thanks our Signature Sponsors