EPCMOCO Presents Courageous Conversation: Empowering Ourselves to Own Our Bias to Build a More Interculturally Effective Society
Date:
Wednesday, November 11, 2020
Speaker:
Dr. Summer Allen and Greg Magennis, Center for Workforce Excellence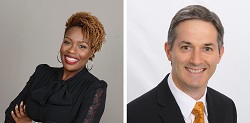 The Council thanks our Program Sponsor


About the Program:
The Courageous Conversation is a two-hour session that focuses on gaining an advanced understanding of the concepts associated with diversity, inclusion, and equality. It is intended to support leaders/teams in having the conversations necessary to make progress on difficult subjects such as race, diversity, inclusion, equality, bias, privilege and others. As leaders, we must reckon with our own perspective on race while also looking at our internal organization and the systems, and organizational cultures and practices that may be perpetuating racial and other forms of bias and barriers to diversity, equity, and inclusion. Open, honest conversations about inequality are an important step in cultivating the conditions for change, including a growth mindset that is a prerequisite to systemic shifts. Conversations about inequality may raise feelings of indifference, guilt, shame, mistrust, and fear of saying something wrong. These feelings are valid and expected, but they often result in avoiding important discussions that must occur before inequity can be addressed. We need to accept that we have those feelings and be brave enough to have these conversations.
About the Facilitators:
The Center for Workforce Excellence is a global leadership development company specializing in the development of inclusive leaders to create inclusive cultures to drive better business results.
Dr. Summer L. Allen is the owner of Premier Performance Consulting, a management consulting firm specializing in improving employee and organizational performance. She is an international consultant, facilitator, executive coach, and public speaker known for her extensive expertise in Diversity & Inclusion, Emotional Intelligence, Organizational Development, and Employee Engagement & Retention. Dr. Allen has worked as an organizational development specialist and trainer for more than fifteen years for companies such as AIG and Farmers Insurance. Dr. Allen completed her Doctorate in Organizational Change and Leadership from the University of Southern California.
Mr. Magennis is a "South African Canadian" who immigrated to Canada in 1994 and moved from there to the US in 2008. He has more than 25 years of human resource, assessment, leadership development, and performance management experience with a diverse group of North American organizations. Mr. Magennis has helped to grow three private companies founded his own company, Axiom Human Resource Development LLC, in 2003.
Logistics:
This is a two-hour program. Participants are invited to bring their own lunch to enjoy during the session.

No cost to participate for members; guests are welcome and a fee of $25 applies.

Members of the Baltimore, Howard County and Washington, D.C. Estate Planning Councils are invited to participate. Guest fee of $25 applies.

Connection details will be provided prior to the webinar.
The Council thanks our Signature Sponsors