Virtual Movie Meet Up Social Hour
Date:
Thursday, February 10, 2022
Registered for this event? Login now to view additional event details.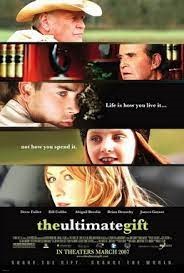 We look forward to our next movie social meet up, offering members and guests an opportunity to connect for a fun, informal chat. The film is available free on Amazon Prime, as well for a rental fee on other platforms. Watch the movie first and then join us for an informal discussion and virtual meet-up. Or, join us even if you don't have an opportunity to watch the movie first.
In The Ultimate Gift, a grandson fully expects to benefit when it comes to the reading his late granfather's will. But instead of a sizable inheritance, Jason receives a test, a series of tasks he must complete before he can get any money. Watch trailer.
Please feel free to have your own happy hour beverage of choice on-hand for our vitual mix and mingle.
There is no cost for members to participate; guests may join for a nominal fee.