Membership Meeting | Planning With Silent Trusts
Date:
Thursday, March 9, 2023
Location:
Kenwood Country Club | 5601 River Road Bethesda, MD 20816
Speaker:
Michael Gordon, Gordon, Fournaris & Mammarella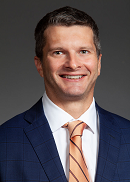 About the Program:
Can you keep a secret? What's not a secret is that quiet trusts have become very popular over the past decade with more and more clients designing their trusts to prevent disclosure to the beneficiaries. This presentation will explore the benefits and pitfalls of quiet trusts. The speaker will discuss the motivations for quiet trusts, how and when they might be used, drafting to achieve the client's objectives and fiduciary concerns in administering quiet trusts.
About the Speaker:
Michael M. Gordon is a Director at the Wilmington law firm of Gordon, Fournaris & Mammarella, P.A. He is a graduate of Fairfield University and the Catholic University of America, Columbus School of Law. He received his LL.M. in Taxation from Villanova University School of Law in 2008 and is a member of the Delaware and Maryland Bar Associations. Michael is the former Chair of the Estates and Trusts Section of the Delaware Bar Association. He is a Fellow of the American College of Trust and Estate Counsel. Michael frequently lectures throughout the country on various estate planning topics. Michael's practice focuses on the unique aspects of Delaware trust law, including directed trusts, dynasty trusts, asset protection trusts and all aspects of the validity, construction and administration of Delaware trusts. Michael routinely works with clients across the country to transfer the situs of trusts to Delaware and to modify trusts to take advantage of Delaware's favorable trust law. Michael drafts, reviews and comments on Delaware trust agreements for local and out of state clients and provides legal opinions on the validity of trusts under Delaware law.

Logistics:
Fees: $40 for active members; $60 for guests.

Registration begins at 12:00 pm. Lunch will be served at 12:15 pm and the program. begins at 12:30 p.m.

Guests are warmly welcome.

Free parking.

The meeting will be moved to Zoom if required for the safety of members and guests during the ongoing pandemic.
The Council thanks our Signature Sponsors