Membership Meeting | Artificial Intelligence and Digital Planning: Exploring the New Intersection of Technology and Estate Planning
Date:
Wednesday, September 20, 2023
Location:
Kenwood Country Club | 5601 River Road Bethesda, MD 20816
Speaker:
Ross E. Bruch, Brown Brothers Harriman & Co.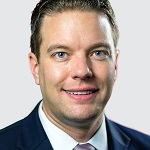 About the Program:
Artificial Intelligence and chatGPT are in the news daily. These powerful new technologies will have an impact on estate planning - perhaps a profound one. Learn about these new technologies and their current and future applications to the practice of law, estate planning, estate administration and more. And, hear about practical tips and avoiding pitfalls in utilizing the tools of technology for digital estate planning.
About the Speaker:
Ross E. Bruch, JD, LLM, is a Senior Wealth Planner in the Philadelphia office of Brown Brothers Harriman & Co. Ross works with and advises successful individuals and business owners on the preservation, growth and transfer of wealth. Prior to joining the firm in 2017, Ross was in private legal practice at a large Philadelphia law firm where he focused on estate and gift tax planning, tax-exempt organizations and closely held business succession planning. In an effort to enhance his ability to help his clients and their families thrive, Ross recently obtained a master's degree in applied positive psychology from the University of Pennsylvania. Additionally, he received his B.A. from the University of Pennsylvania, where he graduated cum laude, an LL.M. in taxation from the Temple University Beasley School of Law, and a J.D. from the University of Pennsylvania Law School.
Logistics:
Fees: No cost for active members; $60 for guests.

Registration begins at 12:00 pm. Lunch will be served at 12:15 pm and the program begins at 12:30 p.m.

Guests are warmly welcome.

Free parking.
The Council thanks our Signature Sponsors