The New Frontier of Cybersecurity and Fraud
Date:
Wednesday, September 16, 2020
Speaker:
Ileana Van Der Linde, J.P. Morgan Asset & Wealth Management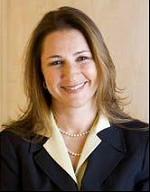 About the Program:
Cybercrime and fraud have become headline news and cost consumers and private industries billions of dollars every year. Ensuring cyber-security is particularly key during times of change and ambiguity. This conversation will focus on cybersecurity, fraud trends and best practices that can be put in place to help you better protect yourself, your family, your clients and your business.
Attendees are encouraged to have smartphones or other mobile devices on-hand to fully engage in this interactive presentation.
Continuing Legal Education Credit:
This course has been approved for one hour of Continuing Legal Education in 27 states, including Virginia, Delaware, Florida and others. Please indicate your interest in obtaining CLE including requested state(s) in your registration form.
About the Speaker:
Ileana van der Linde is an Executive Director for J.P. Morgan Asset & Wealth Management (AWM). Ileana leads AWM's Cybersecurity Awareness Program – educating clients and employees globally on how to better protect themselves, their families, and their businesses from increasing cybersecurity threats. Ileana's team develops timely cybersecurity education materials on various topics to help address the needs of wealthy individuals, family offices, businesses and other centers of influence, so they are better prepared to deal with the reality of cyber threats. She works closely with her colleagues in cyber, fraud prevention, and technology to understand the latest threats, and solutions to mitigate them. Throughout Ileana's career of 20+ years, she has always sought to make technology solutions easier to understand for a lay person. Prior to J.P. Morgan, Ileana worked for Morgan Stanley and Citigroup Private Bank. Prior to a career in financial services, Ileana worked for Hewlett-Packard in Europe. Ileana has a Bachelors degree from Georgetown University, an MBA from Columbia Business School, and is pursuing her Masters in Cybersecurity.
Collection for Manna Food Center:
The number of individuals and families in Montgomery County needing assistance for basics like food and shelter continues to increase during the pandemic. The newly-formed EPCMOCO Community Outreach Committee will host a canned food drive to benefit the Manna Food Center. Committee members will have drop-boxes at their homes September 13 - 20. Details will be emailed. If this is not convenient, you can make a financial contribution directly to Manna Food Center. Please include a note that your donation is as a member of EPCMOCO.
Logistics:
No cost to participate for members; guests are welcome and a fee of $15 applies.

Connection details will be provided prior to the webinar
The Council thanks our Signature Sponsors
Related Document(s):